The Intech Insider e-newsletter has been sent to you from the team at Intech Services. We hope that you will find the content to be informative and insightful.

Printer friendly editions of past editions of the Intech Insider are available in the "Intech Insider Archive" in the private Customer Center.

Please add sales@intechservices.com to your address book to ensure consistent delivery of the Intech Insider.

Summer Protection for Employees

We all know that one of the critical ingredients to our employee's consistent use of proper safety protection equipment is supplying equipment that is as comfortable and usable as possible. Consistent use is sorely tested in the hot months of the year when you would be uncomfortable just working in a Tee Shirt and shorts, but in the industrial coater's environment you still need protective clothing as well as respiratory and eye protection.

Intech Services has assembled a list of products that has been field tested for maximum comfort in the harshest of industrial coating environments resulting in the best chance for your employees to use safety equipment properly and consistently.

3M
TM
7000 Series Respirators
3M 7000 Series Half Face Mask Respirators were designed with the wearer in mind. This respirator is made from a durable silicone and features a soft sealing surface that enhances wearer comfort and face fit. A key feature is the new 3M Cool Flow Exhalation Valve which is designed to make breathing easier and at the same time help reduce heat and moisture buildup within the face piece.

The 7000 Series Respirator can be used with any 3M Series 2000, 6000 and combination Filter and Cartridge; All available on CoaterONE.

3MTM Particulate Respirator 8211 P95
This respirator offers all the proven features of 3M Particulate Respirator 8511, plus a comfortable foam face seal.

The 8211 is uniquely designed to help provide protection from certain non-oil based particles and is ideally suited for work settings that involve heat, humidity, and require long periods of wear.








DuPont Tyvek® Coveralls
Tyvek® coveralls are an excellent choice for breathable coverall protection. Tyvek® lets air and moisture vapor pass through the coverall, helping the material stay light and dry and is a key factor in reducing heat stress (see image below).
Tyvek® is six times more breathable than microporous film garment materials.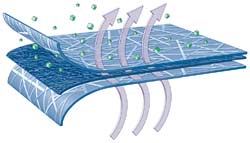 DuPont Sontara® Wipes are engineered to be industrial strength wiping tools. That's why they're so widely used in key industries like foodservice, aviation, and automotive refinish—plus a variety of maintenance and manufacturing applications. DuPont's unique hydroentangling technology ensures that they're ultra-strong, highly absorbent, low-linting and solvent-resistant.


INTECH Services
The Sole US & Canadian Distributor for DuPont Teflon* Finishes
CoaterONE

e

-marketplace
Online

Purchasing & Infor

mation

Resource for

the

Coating

Industry
7 McMillan Way #101 Newark, DE 19713 Office (302) 366-8530